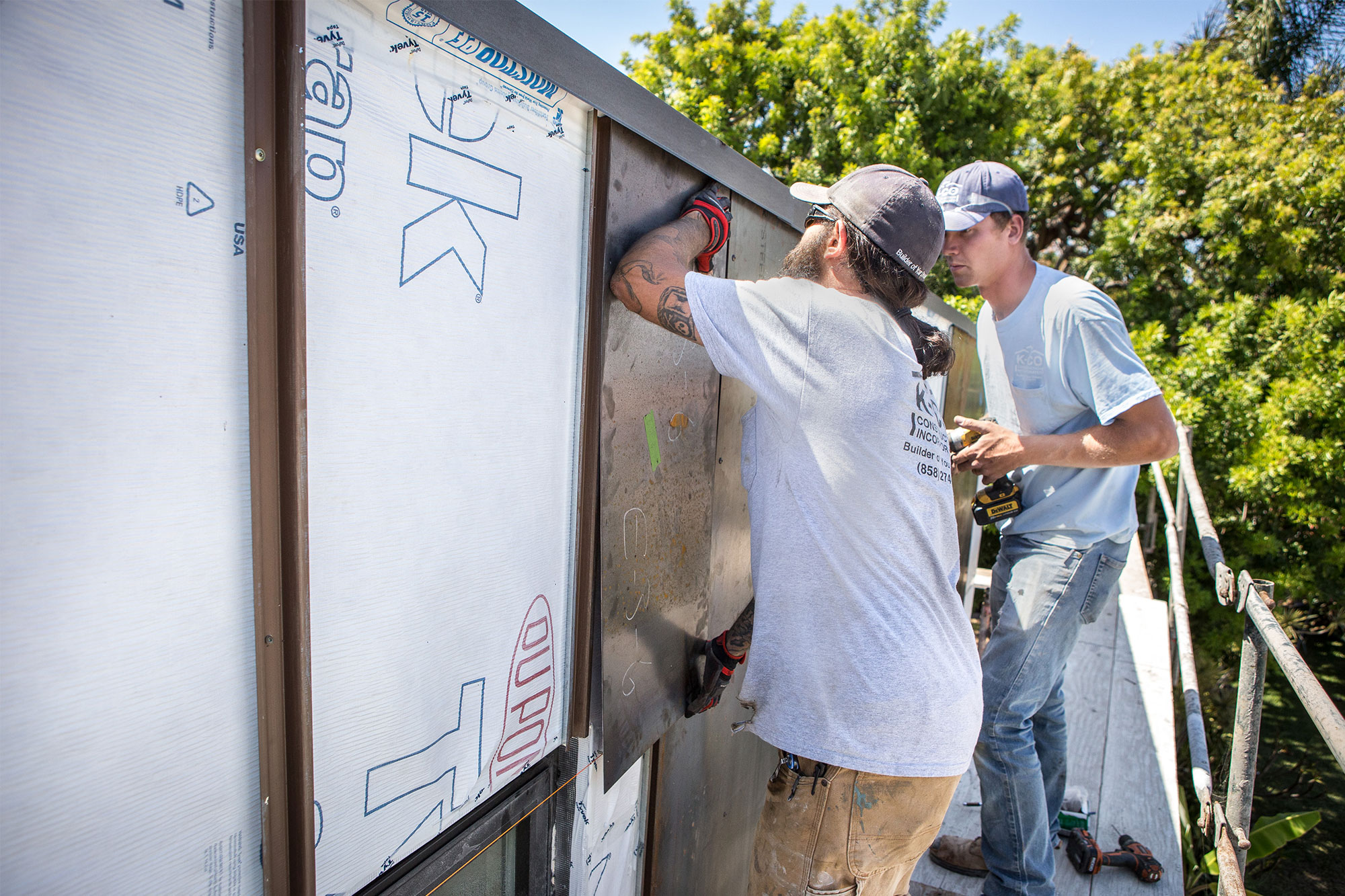 Streamlined Fabrication
How can we efficiently create a custom metal exterior on a tight budget?
The exterior of the Taylor-Metcalf Residence in San Diego is clad in a weathered steel skin with unique patterns and perforations. By customizing the cladding for the home, ThoughtCraft needed to rethink the typical delivery process and coordinate its execution. To keep the costs down, fabrication of the panels was streamlined by utilizing both analog and automation processes. This allowed for efficient collaboration with hands-on clients Joe Metcalf and Traci Taylor, simplified cutting of steel sheets by Waterjet West, and straightforward installation by Brian Vincent of Vincent Design and K-Co.
The façade has 212 metal panels, many of which are unique due to the shape of the existing home and the custom perforation patterns. This made it imperative to streamline the production of the panels to save on labor costs and to keep from cutting each panel individually by hand. Once the field verifications of the wood framing were gathered, ThoughtCraft produced a layout drawing depicting all of the panels on the façade, and coded these panels so they could be easily tagged and identified in the field. Field cut pieces were strategically located and oversized so they could be trimmed later to adjust to any imperfections in the framing. These layouts were then imported into a nesting automation software to pack them as tight as possible on the 5x10 steel sheets. The result was over 90% efficiency in material use. The files exported from the nesting software allowed for the solid panels to be easily cut to profile on a shear, and the perforated panels were produced with a waterjet machine. ThoughtCraft's involvement helped save on material cost and reduction of material waste, therefore allowing for a beautiful custom weathered steel skin on a tight budget.
C O L L A B O R A T OR S
Ian Mellor | Vincent Designs, Inc. | Studio 512 | K-Co | Waterjet West, Inc. | Arise Design